Diary of a Universal Miss
Taking Competition to Collaboration, With One Crown and an Army of Universal Misses
After the recent coverage of the 2013 Miss Universe and the attention given to the Miss Venezuelan Academy I want to share some of my personal insights with you, StellaTribe.

Behind the veil of StellaMuse I am an ex Miss Universe contestant and ex journalist.

This post was originally part of my thesis for a masters in communications, cultural politics and womens studies.

Written after my experience with Miss Universe in 2009, no amendments have been made.

To label Miss Universe as a 'beauty pageant' is not enough. For it is not just any beauty pageant, it is the beauty pageant. The official Miss Universe Organisation describes its contestants, women representing countries from all around the globe, as 'savvy, goal- oriented and aware. The delegates who become part of the Miss Universe Organization display those characteristics in their everyday lives, both as individuals, who compete with hope of advancing their careers, personal and humanitarian goals, and as women who seek to improve the lives of others'. But essentially, contestants compete against each other, vying to make it through each round in pursuit of being crowned the next Miss Universe.
The Miss Universe Organisation defines its competition as a 'homegrown contest [which] has evolved into a powerful, year-round, international organization that advances and supports opportunities for these young women'. Representing different economic, religious and political backgrounds from all around the world, women enter the competition for numerous reasons; fame, fortune, free products, the 'experience' and exposure, to 'help the children', and – lest I forget – 'World Peace'.
Without discounting the importance of beauty in the competition, its founding concept was that it should create awareness about important social issues, and raise money in support of global charities. Specifically, as the official pageant website states, 'Miss Universe uses her title to champion HIV/AIDS prevention, particularly among adolescents. During her reign, Miss Universe will work with the Latino Commission on AIDS, Gay Men's Health Crisis (GMHC) and YouthAIDS/PSI, among other organizations'. On the whole, the Miss Universe competition promotes 'beauty with a purpose', as my good friend and former Miss Philippines has often said.
But before the crown, is the process; both the glamorous special events and the more cringe-worthy moments. In many respects, the Miss Universe competition is the kind of event which Bakirathi Mani has deemed a 'trivialized site of spectacular commodity culture, within which women's bodies are displayed, exchanged, and consumed by an (inter)national audience'. As a contender in the West Australian heats for the 2009 Miss Universe title, I experienced this process firsthand. I was able to observe how the women in the competition see themselves, how they are affected by others' perceptions and how they take on performance roles as the competition progresses. In short, I was there amongst all those young women, vying for the one crown.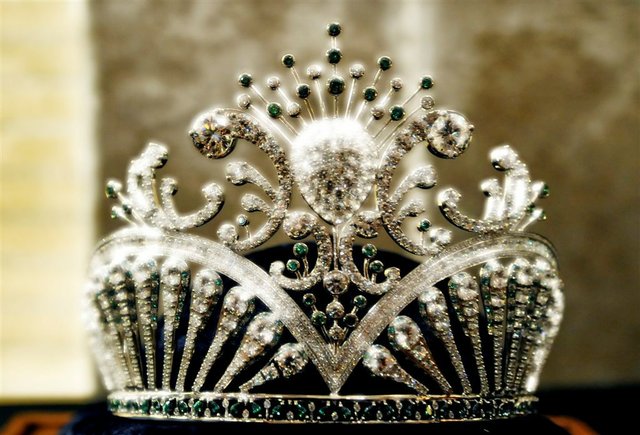 When it comes to objectification and the focus on beauty all the girls are in a similar position, depending on how much they 'play up' to cameras, judges and opportunity. As a contestant, I asked, 'am I objectifying myself, standing in my swimwear to be judged and given a mark out of 10?' By some people I was told, 'seems like it'. But Miss X – a fellow contestant who made it through to the Australian finals – explained how 'in a weird way I felt most comfortable in my bikini on stage, though I do sometimes feel a little objectified. It feels weird to be in a bikini and not at a beach'.
She elaborated by explaining that women need to be 'seen as beautiful; it is instilled through generations, girls were considered objects, and still are. Even as politicians, many women still place being intelligent second to being beautiful. You get more in society being pretty … I would love to be the Nobel Peace winner who still looks amazing, but the most important thing is to be beautiful'. Her obvious ambivalence made me look beyond my altruistic intentions to question the other young women in the competition and even the competition itself.
My initial reaction to entering this hyper-glamorous pageant was complete hesitancy. After a week of back and forth my decision was only swayed by the prospect of being able to use this opportunity as a platform to do something positive. I was mocked for being naïve and idealistic, but the thought of being able to use the Miss Universe position to create awareness about poverty or child labour or any 'worthy' cause was the initial driving force behind my entrance into the competition. That, and the chance to experience firsthand the culture of the 'beauty pageant'.
One minor concern I had after becoming a part of Miss Universe was being labelled ambivalent or contradictory, or worse, a hypocrite. For I am a feminist, and though I am also a model who gets paid to wear clothes and be photographed or walk down a runway, this was not a job, it was a 'beauty pageant'. A bigger concern for me was the time I would be spending with the other girls, girls I deemed 'unlike me' who wanted something I didn't. I knew that in entering this competition I would be around young women who were here not just to win, but to do whatever it takes. Women who cared less about what they could give and more about what they could get, a quality I do not admire. I had to spend many hours at events and judging days, riding around in Lamborghinis or Ferraris, water skiing and sailing along the river, golfing and lunching, with the same group of girls (a group which gradually dwindled from hundreds to a few).
It was not stimulating, or exciting, and it was not like hanging out with friends or relaxing, (though it may have been so for some girls at times), and my interactions with others often felt fake. Above all, it was competitive. I knew who I could talk to, who I could make small talk with and who I couldn't trust, at all. Agendas were not always crystal clear. Some did not care too much about how their hair was sitting while some worried the sun was melting their make-up; others got drunk and were opinionated and loud, and others gossiped, a lot. Miss X had a similar feeling. She said 'if girls are friends with you it can be fake, you can tell instantly with some if they are fake or being genuine'. Some girls experienced the modern rejection of Facebook friendship requests, or the pain of being removed from friends' lists if they doubted you making it through to the next round, when they already had. As Miss X remarked, 'until I made the top few I wasn't being requested [on Facebook] much. Until you make the circle you're not in the friend group … it's Mean Girls, it's like the movie'. In fact, some girls used social networks to express their thoughts. Miss X explained 'it is such a hard competition emotionally to have to deal with sometimes. [For] the top 20, things were being written in the press, on Facebook, public forums, … boys wouldn't go bitch on Facebook, not like girls do'. For me, I stayed clear of adding or accepting anyone on Facebook, purely to avoid such drama and gossip. I wanted to be as true to myself as I felt appropriate, though I still felt I needed to be cautious of what I said to whom, more so than how I wore my hair. If I was shocked by how a girl acted, by what people said or by their attitude, I kept it to myself. I took the journalistic 'fly on the wall' approach most days and preferred to let other girls talk while I took mental notes.
When it came to 'playing the game' Miss X and I had slightly different opinions. While I believed some girls were clearly role-playing, she did not say anyone was a 'game player' though she did experience moments when girls would say certain things specifically around judges or organisers and only say certain things around different girls.
'I think they are probably being smarter, in the way they are acting around the organisers and in social situations; being nicer. They don't want anyone to think they are not nice. I do bite my tongue sometimes, just to avoid trouble. I think sometimes you have to be like that, in general or with the girls. You don't want to be caught out saying things. I think before I speak'. That was exactly what I did too; it was a feeling that the less you say the less anyone can say about you, or be able to portray you as a character you are not. But in relation to expressing their cause for concern, not once did someone start a conversation about what they wanted to do as Miss Universe, how they feel passionate about supporting certain campaigns or global organisations to combat disease, famine or environmental issues. It was more about what to wear, how to pose, 'did you hear/know/see…' and how their weekend was and will be. This made most girls' intentions clear.
When it came to group dynamics, some girls were 'cliquey'. Miss X said she didn't feel like an outcast, 'but they are younger and I'm more mature. I felt like I was babysitting; that sounds terrible, but that's how it felt … At one stage when we were away together some girls got into a car. There was a spare seat, but I got in a car with the organisers instead, purely because I felt like I would have more conversation with them … The girls just wanted to have fun, [but] it was more than that for me'. It seemed this 'cliquey-ness' and bonding over fun went beyond those left in the competition, with 'the girls that didn't make it getting together for dinner every week. It is like they bonded over bitching about what happened in the final … they have become such good friends over it'. Hearing this made me question: why were these girls bonding over such matters? Of course having something in common can help to sustain a connection, but the dynamics of 'cliquing' did not appear to be fostering true 'friendship' let alone examples of Miss Universe material.
I guess the answer is that this was just competition culture, the way us girls have been taught to do it since time immemorial. After all, what Miss Universe and other pageants create is a woman versus women opposition. As Miss X said, 'I would love no hostility, regardless of winning or losing. I love how boys are … they will have an angry burst, but they get over it, I love it. Girls hold grudges, they talk about it … they hold onto it'. When I started analysing how my competitors were behaving, I wondered, if this were a competition for men, would they act differently towards each other? At the end of the journey can these young women shake hands or hug and go for coffee and have a real friendship, or is this notion of collaboration and camaraderie not a female desire when competition, and especially a crown with all its glory, is at stake? I have been told by male friends that after a competition or sporting game or even a fight, at whatever age, males are more likely to shake hands, pat each other on the back and go out socially, laugh, joke, get along and be 'mates'. Is this possible for women, especially if they are in direct competition with one another? What if the competition wasn't as focused on aesthetics and just one crown? Would these women even want to come together to create the 'difference' they say they want to make?
I have heard many people question participation in the Miss Universe competition as a legitimate way of making a difference, especially if you are out there doing it by objectifying yourself in a bikini or ball gown. As Miss X said 'it is a weird concept, how did they come up with the idea of it? If you are out there just to become the next whoever, you aren't doing it for the right reasons'. When we were filmed and asked why we entered the competition, it became clear whether girls had political opinions about making a difference – be it on drug abuse or obesity in Western society or a desire to support indigenous communities – or whether they were just 'in it to be a model, travel and enjoy the ride', as Miss X said. We agreed that the idea of Miss Universe seems lost if the winner just ends up creating a brand of herself.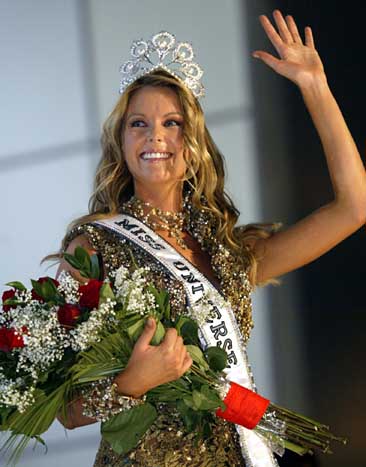 Image: Sydney Morning Herald
In an interview with Seven Days, Australia's own Miss Universe 2004, Jennifer Hawkins, said 'my first thought was that it would give me the opportunity to travel overseas, which I had never done before. My parents were really supportive mainly for that reason' (Sunday Magazine, March 29, 2009). Now focused on furthering her modelling career, Hawkins' example of life after Miss Universe was not one admired by Miss X. 'I wouldn't want to be like that. Yes, I would love to be a more successful model, but just because you reach fame doesn't mean you stop campaigning', Miss X said.
I couldn't help but question what campaigning meant to most of the girls competing for Miss Universe, and if they visualised themselves actively being a part of a movement or cause. I admit, I bought into the pitch of being a 'front person' for a 'good' cause, but I also had intentions of wanting to be a puppet-master, not just the puppet at the beck and call of the Miss Universe machine. Because, while Miss Universe is practically a franchise and there are the mandatory AIDS related causes that are supported, the crowned woman is taken from event to event and country to country, with an opportunity to do more work than is perhaps prescribed by the organisation.
Of course, I realised that one woman, however politicised or educated, may not have the opportunity to exercise any more political will than those before her. In fact I questioned why a confident, educated, articulate and politically driven woman might be chosen as Miss Universe, especially if she was more inclined to want to pull her own strings than be strung along. That, perhaps, is not what the 'pageant masters' are after.
Knowing this, I still entered Miss Universe and indeed paraded in a bikini, and while I was up there I admit that I was not thinking about famine, political corruption, disease or poverty, though neither was I concerned about how big my bum looked or voluptuous my breasts were. I was wondering: what are these other girls thinking, what are their true motives? And who are these people sitting before us putting numbers next to boxes?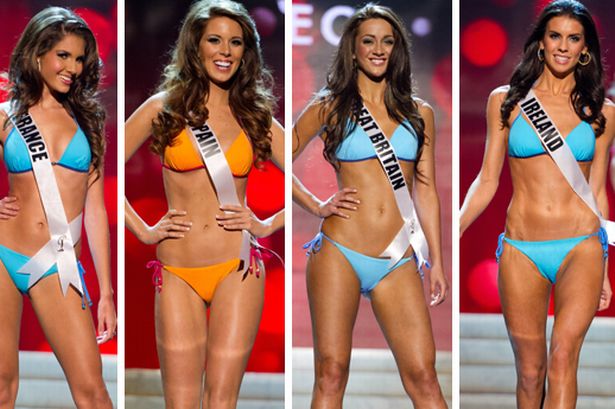 How will a 9.5 in the swimwear category help me make the difference I want to make? It all seemed inconsequential and meaningless entertainment, for an audience of family, friends, industry enthusiasts and pervs. But I knew this all along. I knew the moment I put my name and details down that I was not dealing with a world organisation founded purely on altruism, and that I was most definitely not going to be associating with a bunch of budding Mother Theresa's.
I know, logically, that the Miss Universe competition is partly a patriarchal organisation that deliberately brings out the bitchiness, insecurity and competitiveness amongst its entrants and as a result encourages people to say 'women are bitchy'. It undoes itself by emphasising the aspect of beauty and thus by pulling away from the altruistic 'make a difference' propaganda that it is said to be based on. It would be naive to say that this failure stems from the women and the beauty culture alone, because it is embedded in and sustained by the culture of the competition.
When it came to describing the experience two words that girls often used were 'good' and 'fun'. Others who looked a little deeper were more inclined to say it was 'drawn out' over too many months and done so 'intentionally to give candidates more opportunity to foster emotions' and create a 'false hype'. Some girls felt they had 'grown as a person', others were just surprised that they 'got this far'. It was comments like the last one that put a spotlight on self-esteem. Numerous times backstage while preparing for judging, girls would put themselves down. Panicking about how to answer questions correctly, questioning how they looked or if they should even have entered, and constantly reiterating negative comments to others about themselves before throwing a complement to a girl beside them. They appeared to seek support or affirmation from others, all the while genuinely dwelling on self-doubt. For the majority there was a clear lack of positive attitudes and self-belief. Despite being deemed conventionally 'beautiful' in the opinion of some, and at least by the judges, many girls saw a different image of themselves.
But not all were at this extreme; there were a couple of girls who preened and prepped in front of the mirrors and applied their lipstick with a look that oozed an air of 'quite frankly my poop doesn't stink' as one girl termed it. Like any competition it takes all sorts. There were two girls I met along the way who stood out. They spoke with kindness, laughed when something was funny and listened when someone had something to say, and most of all, came across as genuine. But even they did not seem to embody a firm belief in self. Self-esteem was a quality that appeared lacking in many young women, who acted one way on stage and the complete opposite off it.
For me, I did not believe I was casting aside everything I have learnt and believe in when it comes to women's rights by being involved and having a purpose for doing so. I was not in awe of free products of any nature or trips around the world. Though some reasoning for every girl's entry stems from a belief in beauty, for me 'beauty' was and is a mere steppingstone, a foot in the door, just like any other attribute one possesses. Pursuing beauty need not be a disrespect to feminism or myself. If I embrace what I have and use it as an empowering tool to assist in achieving my personal goals, that's okay with me – especially as those goals are to help others.
Having read articles online that other Miss Universe contestants or followers around the world had written, Miss X told me some of these young women saw it as less about fixing problems and more about making people aware of situations in the world that need addressing. She feels much the same way; for her, the Miss Universe competition is an opportunity to 'get the right people's attention [even if] it is naïve to think you can save the world or completely eradicate something. Personally, I would like to eradicate binge drinking and drug abuse in Australia – I would love to go out there and explain this to children … but why would they listen to just me?' With the Miss Universe organisation behind her, she feels, she would have a better chance of being heard.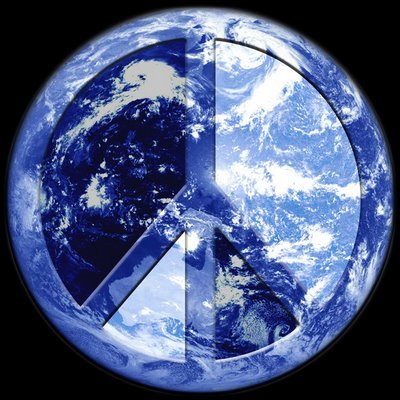 Even so, I was personally challenged: 'do you actually believe you can make any difference, just like some famous actor going to Africa and posing with children and the next day it is splashed across the tabloids. Pure publicity, no change made'. I humbly agreed that publicity for the sake of publicity is often useless, but I don't believe that is always the case. Neither do I believe one person alone can often make a difference on a global scale. Nevertheless it always takes someone to initiate a process and gain support for a cause.
As I reflect on my experience as a contestant, I keep coming back to the idea that the mindset of a girl in competition is far from the more uplifting spirit of collaboration, of which we are all capable. If we desire to seek beauty and use it as a constructive means to be heard and a steppingstone to make a difference, can we not see the power of doing it together? Because there are plenty of beautiful and intelligent women around the world, not just one. Shifting the focus from aesthetics to the stated humanitarian aims of this pageant would allow more than just outer beauty to be the focus. As it stands now, the structure of the competition seems such a waste. What would happen if we harnessed the energy of a collective of beautiful women instead of only one crowned beauty? Thousands of young women all around the world enter Miss Universe every year. Amongst them are those who genuinely want to create positive change where it is needed, who, if given the opportunity, could come together to do so. It appears the organisation initiated to do wonderful things for those in need only wants one woman when it could be recruiting an army. Miss Universe could become a platform to recruit Universal Misses, committed to assisting and contributing to organisations and individuals in need. The problems of this world require the dedication of many; perhaps a global competition's worth of entrants would be a good number to start with.

With Love, Elise / S*M
From 'beauty' pageants to collaboration, what are your thoughts, StellaTribe?