From Before Sunrise to Before Midnight
"The principles of true art is not to portray, but to evoke." Jerzy Kosinski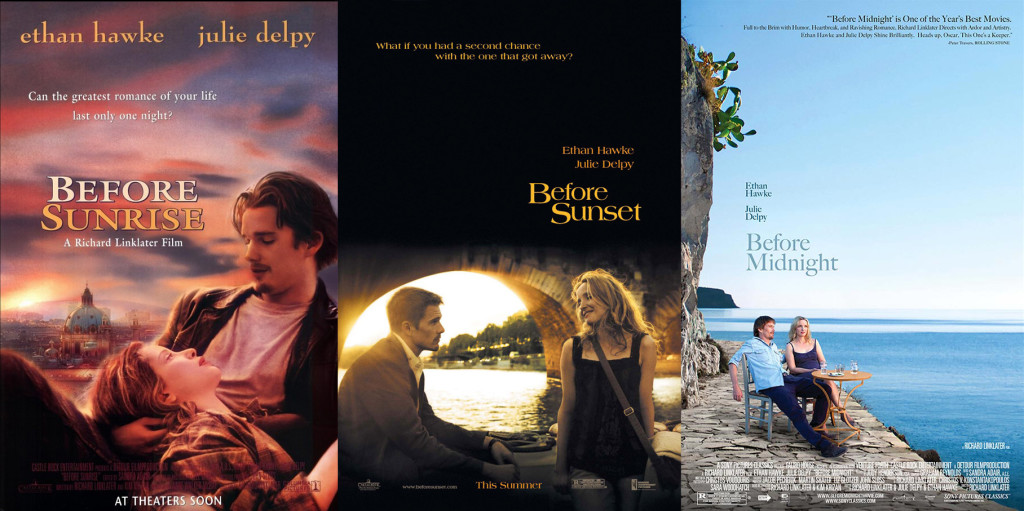 Directed by Richard Linklater, the highly anticipated Before trilogy is now complete with the release of Before Midnight.
Before Sunrise
We first meet Céline and Jesse in 1995 when the two twenty-something strangers meet by fate on a train travelling from Budapest to Vienna. Jesse provocatively suggests they should get off together and spend the day before his flight to America. Céline agrees to grab her bag and embark on a spontaneous expedition. The powerful meeting of hearts and minds is beautifully played out by actors Julie Delpy and Ethan Hawke. The enchanting chemistry between them as they share their worlds; parents, death, reincarnation, previous loves, makes this is an art house classic with no hidden agenda. The two literate and sensitive souls are intoxicated by the fact that their lives are only beginning. Filled with mystery, intrigue, and love they part at the train station with not so much as an exchange of  phone numbers, just a a commitment to meet again in the same place in exactly six months time.

Before Sunset
Nine years later the couple are reunited in Paris when Céline reads Jesse's new novel about their fateful encounter and goes along to a book reading. With only a few hours before Jesse's plane leaves the pair take a picturesque walk through Paris sharing their daily experiences, personal views, current partners and their lingering feelings for one another. Right before Jesse is to fly back to his wife and son the pair find themselves uttelry reenchanted by each other listening to Nina Simone in Céline's apartment. As the credits roll director Richard Linklater leaves us wondering if the fated lovers take the second chance they were offered.
Before Midnight
Now, nine years on from their last rendezvous it is revealed what happened to Jesse and Céline in her apartment that afternoon. We find them in their early forties, married with young twins spending the summer in Greece. Jesse faces a crisis after taking his son from his first marriage to the airport. His worries of being an absent father trigger a series of discussions with Céline. Unlike the previous two instalments, the third Before film also includes scenes of Jesse and Céline talking with younger and older couples, who shed light on different views of marriage, romance and love. Before the stroke of midnight we are once again part of their story.
Share with the StellaTribe: What are your all time greatest art house movies? Have you ever experienced a Before moment?