Stella's Choc Caramel Queen of Hearts & Goji Berry Muse Triangles
Stella's Choc Caramel Queen of Hearts & Goji Berry Muse Triangles
So much raw chocy goodness coming from the StellaChef Kitchen we need a special day to celebrate, so EasterValentines Day it is!

I'm certain Hallmark are designing a card to join in the festivities as we lick the choc covered spoons!
First we make the raw chocolate base for both treats then we jazz up each mix to make two Stella chocy creations.
Ingredients
3/4 cups raw organic coconut oil
3/4 cup Jarrah honey
1 cup of raw organic cacao powder
1 small pinch of Himalayan salt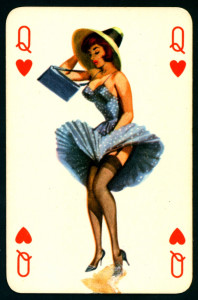 Double boil the coconut oil if it is solidified, (just like we did for previous StellaChef desserts like StellaNutella)
Mix in the honey, cacao and salt and stir until you get a gorgeous chocolaty sauce.
This is your base for both the Choc Caramel Queen of Hearts and the Goji Berry Muse Triangles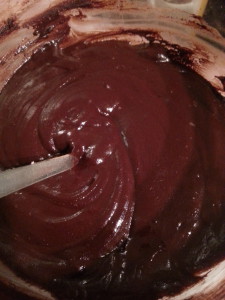 For the Choc Caramel Queen of Hearts
You will need a heart mould tray
Half fill each heart with your chocolaty sauce
Then add a tiny bit of 100% pure almond paste (the size of your finger nail) on top
Then fill the rest of each heart with more chocolaty sauce
Add a little sprinkle of magic dust from your fingertips
Freeze your heart tray for a couple of hours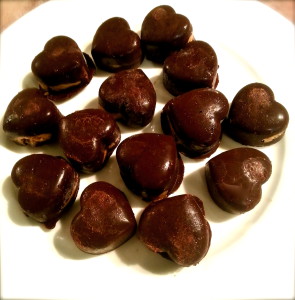 Pop them out to serve on a beautiful dish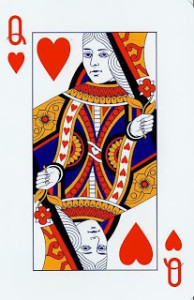 Your Queen of Hearts are ideal with a hot cup of roasted dandelion tea!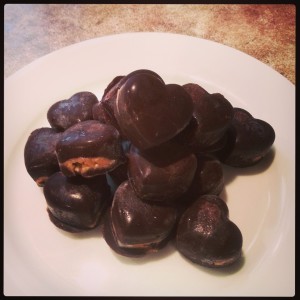 For the Goji Berry Muse Triangles
Pour the remaining chocolaty sauce onto a glad wrap covered tray
Even it out into a chocolate block like shape
Sprinkle on top organic Goji berries, some raw organic cacao nibs and some magic dust
Place in the freezer to set for a couple of hours
Remove your slice from the tray and peel off the glad wrap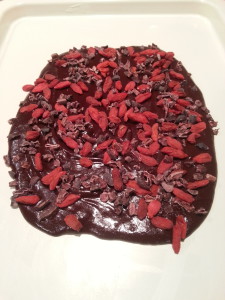 Slice your Stella creation into squares then diagonally slice them again, into Muse Triangles, et voila!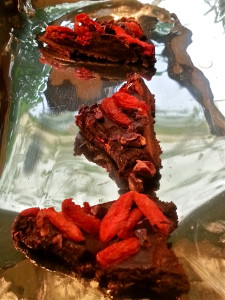 Serve these babies with a yummy pot of African Rooibos tea. De-lish!
Happy EasterValentines Day StellaTribe!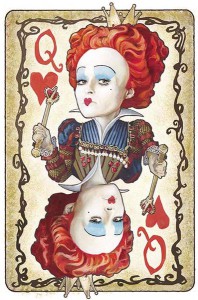 These will be going to the Champions' abode tonight, and you can bet Stella's Dad will be receiving a platter for Fathers Day too!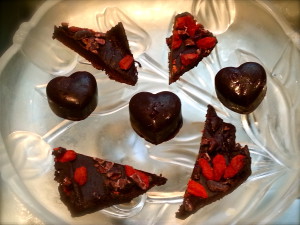 Why not whip up some for your Dad (and Mum … & the rest of your LoveLight Tribe!)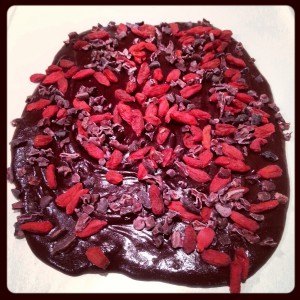 What other raw choc treats are you whipping up to celebrate this EasterValentines Day!?